It Was the Blurst of Times
Ah, August, we knew ye far too well. May the door hit you on the way out.
Even though there were some not-so-favorite parts of the month, it was a fun, eventful month overall.
For instance, elopement cupcakes.
My co-worker eloped overseas during her vacation – which is awesome! To celebrate, I baked special wedding cupcakes to celebrate the occasion. Every married couple deserves the opportunity to smash cake into each other's faces.
Speaking of spouses and the destruction of cake items…
This cupcake tip has seen its share of frosting tragedies. He is the second generation to succumb to injuries sustained in battle and he valiantly lost his fight in the great garbage disposal attack of '14.
Throwing this guy away must have sparked some fire in me, because the very next week, we purged our closets and had at least three bags of items to donate. Three! I love me some lack of clutter.
In Tucson, we only have two seasons: hot and really hot. Therefore, it's easy to keep everything in your closet year-round. When people talk about taking "winter clothes" out of storage, the concept flies over my head like a bird headed south.
Now that we're on the topic of transitions, it's a good time to mention that I start a new job on Tuesday! It's a place I've wanted to work for a very long time, and while I'm sad to leave behind great friends and colleagues, I'll always have this awesome water bear picture and plushie to remind me of them!
My obsession with water bears occurred after seeing this GIF come across one of my feeds: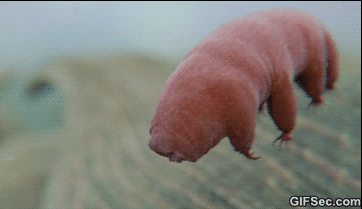 How can you not love that? You can't. Don't even try. Just love it, and move along.
And finally, Tucson sunsets. This city can be oppressively hot, utterly strange, and too obsessed with road construction. But then there is this:
Monsoon sunsets are beyond compare. The light quality is amazing, the smell is magnificent, and the gifts are left right on your front step.